In front of the wood-burning stove, well into winter, we began our typical summer vacation daydreaming. We settled at last on a cross-country road trip to see family.
About the Author
Jamie Birdsong-Nieroda, API Leader, lives on Long Island, New York, USA, with her husband and their two children. She serves as the group leader of API of Suffolk County Long Island in New York.
Truth be known, the idea of driving from New York, USA, to Oklahoma, USA, was inspired initially by high airfare: We weren't thrilled about dropping $900 per person to get there.
Thus began our planning of a long car trip. I think of the process as part of the ever-present task of "educating oneself about parenthood" included in Attachment Parenting International's First Principle of Parenting.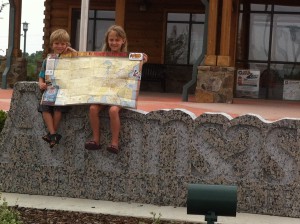 At some point during our trip planning, we realized we could fly to Dallas for half the cost of a flight to Oklahoma, but we already were excited about taking a cross-country trip with our children. I didn't want to bypass the memories I'd envisioned for the tarmac and nearly instant arrival to our destinations. I wanted the experience we could have as a family on the road as well as the relationship my children would gain with the land and its undulations.
Ultimately, I wanted the time with my family to be about connection as we experienced a series of places together.  As fast paced and demanding as life can be, I found this vision beckoning to me as a welcome retreat from our schedules at home.
No, I didn't suffer from delusions that the trip would be without bumps. A 15-minute trip to our local library sometimes challenges my patience. Driving there with arguing children the week before our vacation commenced, my husband and I wondered if we were going to regret our decision to undertake "The Great American Road Trip," but any worries were unfounded, and here's why:
Portable Geography and Car Parties
I printed free online maps of each state and purchased a children's atlas. My children drew or wrote about each place, including significant land and water features, year of statehood, state nickname and flower, and so on.
We crossed each state line with a homemade "car party," complete with penny whistles, bubbles and a novelty snack, and began reading from our atlas, which contained details such as strange and wacky laws in each state, like the one in Sag Harbor, New York, USA, that restricts people from changing clothes in their cars.
This activity alone broke up the miles as every new state brought with it a change of focus and a car party to anticipate! We traveled through 11 different states and more than 1,500 miles one way, so we had ample opportunities to focus on our parties, paperwork and atlases.
Connecting through Storytelling
We traveled with "Trip Talk: Box of Questions" conversation-starting cards from TheBoxGirls.com. I wrote our answers in journals to capture everyone's replies, though videoing their responses would have also been a great memento, and what kid doesn't love to use a camcorder or other recording device?
Riding along, all of us took turns responding to questions like "What's the first vacation you remember?" "What's the fanciest hotel you've ever stayed at? What's the dingiest?" and "Ten years from now, what memory from this vacation will you still be talking about?" It helped us connect in our little Honda Civic as we drove mile after mile.
We continued the storytelling once we had arrived to our
destination by asking other family members and chronicling their responses as well. What a great way for our children to connect with and learn about their great grandmother's life by hearing
stories, such as her very first vacation occurring when she was 19 years old!
In addition to our own stories, we brought a mix of books and audio books. I mostly chose stories that related to our travels. As we drove through the Smoky Mountains, we read a Carole Marsh mystery about the Biltmore Estate in Asheville, North Carolina, USA, which excited us all for the visit that lay ahead. The Evolution of Calpurnia Tate accompanied our Texas, USA, travels, and Davy Crockett's tall tales entertained us before we visited his Tennessee, USA, homestead.
I sought online materials to deepen our experience of a place. Once there, we made use of treasure hunts, I-Spy games or activities that supported our children engaging actively with their surroundings.
Attending to Multiple Needs at Mealtime
When the need arose, we parked at rest stops to stretch, play ball, go for walks and eat our meals.
Due to some food restrictions as well as the desire to eat well while saving money on the road, I had baked and cooked food to last us a good portion of the trip. I had a cooler full of frozen meals: vegetable quiche, meatballs with diced kale and broccoli, quesadillas on gluten-free tortillas and quinoa-kale burgers. I also packed hard-boiled eggs, cacao nut chews, fruit, veggies, hummus and almond jam cookies.
Not only did this save money, but it allowed us to play games
together in nature rather than sit in a restaurant or stretch in a hot parking lot, effectively meeting multiple needs at once and "feeding with love and respect," Attachment Parenting International's Second Principle of Parenting.
Positive Discipline and Playful Parenting
When our children had a seemingly immediate need, we tried to remain empathetic, "respond with sensitivity" as in Attachment Parenting International's Third Principle of Parenting and "practice positive discipline," the Seventh Principle of Parenting.
We really could understand their frustrations and verbalized that when frustrations arose, rather than telling them to get over it. We then moved on and found an activity that transformed the irritation to focus and fun.
One of our best tools for riding the waves of frustration when they arose, besides switching the activity or taking a break from the car, was to create music. One of us would begin singing the blues: "He wants some gum (x2), don't know what to do (x2); he wants some gum. Hey, I do, too! He wants it now (x5), shooby shooby do do! He wants that gum, how 'bout you?"
During that song, everyone began to add  "do-wops," yodels, knee slaps and new lines. And believe it or not, we rode 17 miles in creative bluesy-bliss to the next rest stop where we found more snacks and stretched. The gum request, due to hunger, was long forgotten.
We made up songs like "Ode to Nashville, not Asheville" to cross the miles. Sometimes these songs were sheer genius, not begun due to any lurking fiasco but preemptively whiling away a stretch of road when we were between activities.
Another activity that proved helpful was an engaging game shared by API of Suffolk County Long Island member Efrat Bolze that she has used to transform car struggles with her son: Together they
imagined together all the items they could put in a bowl of cereal. This game can entertain children up to at least 11 years old, because I've seen it in action. This technique dovetails with the "fulfill through fantasy what you cannot grant in reality" positive
discipline tool.
Breaking Up Travel Time Creatively
Twice, we opted for evening and nighttime driving after a full day's
activities. We spent a day at the Biltmore Estate, playing at the vineyard-farm area and eating dinner there before we began driving from 7:00 p.m. to midnight. Bonus: The adults got a chance to talk without interruption across the miles, a rare luxury when children are awake.
Other days, we made headway during daylight when we could see the scenery change and engage in all of our activities.
Down Time Between Visits
Using our drive time to connect with one another helped to prevent tantrums. We divided the trip between camping and hotels, nature and city, friends and our own forays. We planned time with our children in between visiting family, taking the time to connect, which a busy pre-vacation schedule had made less frequent than we would have liked.
Rather than having endless visits with people our children do not know, in child-unfriendly environments with inappropriate expectations for their ages, we gave them breaks where just the four of us could reconnect. One especially exciting activity was taking them rock climbing at a converted grain silo.
Realistic Expectations
I told myself that even a 15-minute trip to the library could have bumps, so releasing expectations that this trip would go smoothly was imperative. Attachment Parenting has helped my family to be cognizant of developmental stages, set realistic expectations and remain flexible.
We also didn't expect our children to want to do every activity we presented. When our 8-year-old said she didn't feel like going to Garvan Woodland Gardens in Arkansas, USA, I waited in the car with her, suggesting we read and relax instead.
She jumped at the opportunity to enter the Gardens less than 10 minutes later when her father and brother called to say they had seen a snake in a water feature. We then enjoyed the afternoon together, with her willingly participating, which made us all happier.
Postcards
We bought postcards at rest stops and chose which one suited each recipient, and took time addressing and stamping them, deciding what to write and getting them mailed. In this way, we connected with loved ones as we traveled along, inviting them into our journey.
Audio Stories
We also traveled with audio stories from SparkleStories.com, created by a former Waldorf teacher who saw the need for children's media that is simple and filled with a sense of wonder — stories that would inspire children to play, marvel, laugh and be kind. The stories model healthy relationships and values and engage a variety of ages.
Woven between the "Travel" Sparkle stories are some long staircase verses that everyone can join in, as well as some fun and original car games designed to entertain and inspire the whole family—which leads me to…
Games
Games help everyone to enjoy the ride. A favorite of ours is
searching for objects we pass that begin with each letter of the
alphabet. Sometimes we attempt to get them in order from A to Z, and other times we passed something too good not to write down, like silo or carnival, so we "collected" it before we reached that letter.
For this trip, I brought some games new to my children. API of Suffolk County Long Island member Carole Vande Velde — a friend who is a veteran of long roadtrips and had suggested snacks that keep hands busy awhile, like edamame or pistachios in the shell — offered to loan me some favorite manipulatives. I brought out these completely-new-to-my-kids toys on the last day of the trip when the anticipation of returning home — and back to Dad, who had flown home after two weeks with us — began to create impatience.
Had I been more together, I would've succeeded in printing a worksheet to identify which state license plates we'd seen so we could have crossed them off as we went along.
One thing that we did find necessary to make time for was creating our own game board, which gave us direction when upset feelings arose. Since Dad had flown home partway through our journey to return to work, my children were really missing him. Any time they expressed sadness about missing Dad, we put the energy into creative expression, creating our own board game designed by my son. We named it "Welcome Home," with the objective to complete the tasks on the board by the time we made it back to Dad. Creating a "Welcome Home" deck of cards provided us somewhere to place our practical questions, concerns and lessons learned throughout our journey.
Everyone Has a Voice
We knew the return trip, especially without Dad, might be less compelling for the kids after having already made the journey once. I already knew the route for the return trip and where we would stay for two of our stops. These details were nonnegotiable. Yet I wanted everyone to have a say in what the return trip could offer.
Sitting around Grandma's kitchen table our last evening in Oklahoma, USA, I asked everyone to list a few things they wanted to do during our travel. I noted that we wouldn't get to do all requests listed, but we would do at least two from each person's list.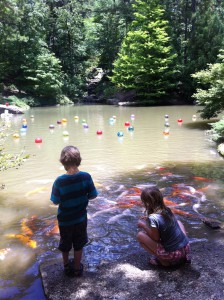 I wrote down my son's first request, "Look for crawdads at Sam Gray's creek," and each proceeding idea. Grandma, who was driving back with us on the return journey, suggested: "Visit Mount Vernon." Everyone seemed to want to have ice cream of some variety, so we wrote that down as well. I added: "Hike somewhere," "Visit a museum," and "Go somewhere or do something new and unexpected."
We created a funny, little pledge that might help us just as someone was, say, whining that they didn't want to stop in Washington, D.C. The pledge was inspired by the book, The Penderwicks.
Ours went something like this:  "We, the Nieroda family, do hereby promise to try, to the best of our ability, to remain positive during activities others most want to do on our return trip home and to stay patient as we wait for our own chosen activities." As did the Penderwicks, we placed our hands on top of one another's as we said our pact.
I thought we might return to it as a gentle reminder at some point east of the Mississippi River. As it turns out, the pact may have been unnecessary, as everyone kept such positive attitudes. Perhaps "responding with sensitivity" to each family member's needs, Attachment Parenting International's Third Principle of Parenting, and "striving for balance," the Eighth Principle of Parenting, strengthened the connection that in turn supported us all as we journeyed home.
Journalling the Trip as Traveled
Having more than two weeks' worth of vacation under our belts, we used Instagram to create artistic photos of our journey. Pulling out of town at 4:00 p.m. after a day of active play with content kids, my last stop was to pick up the photos. Looking at and discussing them occupied us awhile as we drove eight hours that first evening.
The next morning, when we set off again just east of the
Mississippi River, Grandma sat between my kiddos as they created their own scrapbooks of the trip. We laughed that if anyone asked how the vacation was upon our return, they could whip out their albums and say, "Here! Let me show you!"
We prompted my 5-year-old son to draw pictures of events or
objects that he wanted to remember from the journey. He drew a "thing with an arm that goes up and down" (an oil rig) and a salamander that he'd found while camping just south of Shenandoah National Park in Virginia, USA.
My 8-year-old daughter busily jotted photo captions on scrap paper, then transferred them to her album. As we visited new places on our return journey, Grandma asked us about our recollections.
Poems were created this way, then thank-you cards and finally new entries for the scrapbooks.
Reflecting On the Trip Afterwards
Did I mention that I had brought a stack of homeschool books with the intention of opening them for a whole other path of learning? It just didn't happen with the many other diversions and hands-on learning and living we experienced.
And you know what? I really would not trade this trip for four round-trip tickets from New York to Oklahoma. Really.
And next summer? I'm already dreaming of the possibilities.