We hope you now understand the incredible value of parents' presence in the early weeks and months after the birth of a baby — that being home with a newborn is not simply a nicety, but a critical component of the budding parent-child attachment.
The United States is one of the very few developed nations in the world that does not offer universal paid leave to parents. While there are select employers who are beginning to offer paid maternity and paternity leave to some employees, this practice is inconsistent at best and certainly not the norm yet. The vast majority of new parents who wish to take parental leave — which is protected by law for up to 3 months for the first year of a baby's life  — must do so, in many cases, without pay.
This can create a major financial obstacle to providing that parental presence to a newborn baby that is so critical to their development, if not for the impressive problem-solving of parents who make presence a priority. Here are a few of their stories:
Kendra Godfrey
Every woman's path to motherhood is different. Every mother has a different story leading up to the birth of her child, and therefore every mother's interactions and connection with their child will look different.
This is what my story looked like just prior to the birth of my daughter: I did not think I was capable of loving my daughter in the manner that other moms love their young.
This doubt did not originate from perinatal depression, nor was it a result of me being a "cold" woman. This doubt is my life story, my learned schema: thoughts that have run through my head and scorched my heart since childhood. I learned to doubt myself from my mother. Will I ever be good enough? No, I didn't think I would.
My mother was not capable of loving me in the same manner that most mothers love their young. She suffers from a mental illness that negatively affects her insular cortex, making it very difficult for her to feel empathy and to nurture anything.
If I did not have a secure attachment with my mother, how could I have one with my own child? I was positive I could not. Therefore, the plan was for me to return to work soon after my baby was born, and my husband would stay home with our daughter and lovingly care for her.
Of course, when I told people our plan, I never admitted my deep feelings of self-doubt. I never said, "I am pretty certain that I will be a crummy mom, so I am leaving it up to her dad to take care of her." This would have sounded ridiculous to my peers and friends, mainly because I was a marriage and family therapist who specifically enjoyed working with children.
Then my daughter was born. Her eyes were fresh, and behind her eyes was trust — trust that only comes from an infant gazing into her mother's eyes upon entering the world. This nursling trusted me with her life, and I wasn't going to allow her to grow up with the same self-doubt and empty heart that ails me to this day.
I needed to stay home with her and ensure our bond was secure. My heart could not take it otherwise. I also needed to stop a legacy of abuse, violence and neglect that has inflicted my maternal family for generations. I was not going back to work 4 weeks after my daughter was born.
Almost 5 years later, I still stay at home with my daughter. I missed my work over the years, but once I became an API Leader just before her fourth birthday, that part of me was fulfilled once again.
Some people have told me I am extreme, yet they do not know my story. They don't understand why I take attachment seriously and why I see a strong need for a cultural shift. They can't see into my heart.
My heart wants my daughter to cosleep with me. When she curls next to me in the morning, I can easily smell her sweet scent, and I savor it for what it is.
My heart wants my daughter to continue to nurse. I can still gaze in her eyes and catch a glimpse of the magic behind a 4-year-old's brain. I savor the oxytocin rushing between the two of us.
She still stays home with me, because my heart tells me she should. When I overhear the inner thoughts of her imaginary world, I am in awe. I savor the joys of being 4!
I still carry her from time to time, because my heart swells as she snuggles her head into the crook of my neck. I rest my head against hers, and I savor the trust between us as we sway.
I am kind to her, and strive for balance within myself, because my heart knows she deserves it.
Giving presence to my child has healed my heart, and will ensure that my daughter's heart will not require the same healing as mine. My hope is that her story will resemble that of a cardinal's song on a cold winter morning — piercing the heart of those she loves and carrying her far and wide.
I know that every mother has her own story to parental presence. This is my story.
Thiago Queiroz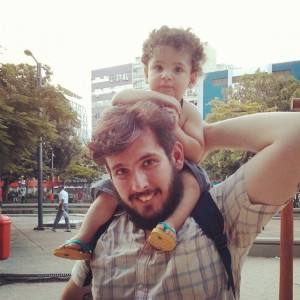 I live in Brazil. My wife and I have 2 little boys: Dante, almost 3, and Gael, a 6-month-old baby. Right after my first son was born, I discovered Attachment Parenting. It made so much sense to me that it inspired me to become an API Leader.
Brazil's parental leave is pretty embarrassing. Mothers get to stay at home for 5 months while fathers get to stay at home for 5 days.
My wife decided that even if she looked for work after her leave, she probably wouldn't even make enough money to pay for childcare, so we decided she would postpone her return for a while, until both kids are in school. She's planning to start grad school soon, and from there, she will decide which route she will take for her career.
As for me, I took a 30-day vacation to add onto the 5-day leave, but then I had to get back to my full-time job.
Still, Attachment Parenting helps me every day to be a present father.
I obviously can't give birth or breastfeed, but I can foster the secure attachment I want to build with my sons through a whole lot of other actions. I can listen to my child's cry and take his needs seriously, especially because a baby cries not only because he is hungry but also scared, too cold, too hot, tired, hurting or anything else. I can also carry my son in slings and cosleep next to him at night.
Everything I learn about Attachment Parenting helps me understand my role as an involved father, not a mere helper. Being a father is way beyond just performing tasks and helping out. It is all about care-giving.
I could do like other men and delegate the responsibility to the mothers and other caregivers, but Attachment Parenting shows me how I could take responsibility instead. I participate in understanding how the behavior of my kids reflect their needs and feelings. I get to genuinely help my older son get through frustration and temper tantrums.
Personally, the greatest thing about Attachment Parenting is that it helped me to find my way in my own parenthood. Attachment Parenting helped to show me how I could be the father I wanted to be.
Megan Bell
I'm a classically trained singer.
Before becoming a mother, I worked a number of various part-time, "day jobs" while also teaching out of my home and singing professionally in a few choruses and at a church. My vision for balancing work and motherhood was that I'd quit all the "day jobs" and only work as a musician.
My husband teaches at our local community college and has the flexibility to determine the schedule for his classes each term. He's naturally a night-owl, so he'd always set his work schedule to be from about 12 noon-8 p.m.
My daughter is now 16 months old, and it's taken us that long — through trial and error — to realize that my husband's work schedule needs to change so that he's available earlier in the evening. This way, he can be the primary the caregiver when I'm in rehearsals and concerts. It's a work in progress, but we are getting there!
Currently we have a babysitter or a family member help between the time when I have to leave for my work and the time when my husband gets home from his work. It's important to us that I am able to continue to sing professionally — and to have him be the primary caregiver when I'm away.
A year or two before I became pregnant, I started teaching private voice and piano lessons from home with the vision that I'd be able to continue working from home without concerns for childcare. I'm very happy to say that my daughter loves listening to my students' lessons, and it's been fairly easy to balance caring for her while teaching. It's nice to have a job where I am able to continue to contribute financially to our family, and also have my daughter right there with me.
Reflecting upon my postpartum period, I realized that I went back to work too early. I went back after 6 weeks, thinking that's what was standard. Since I'm self-employed for all my jobs, I can determine my own maternity leave — all of which is unpaid. For my next baby I think I'd be ready at something more like 12 weeks, if we can swing it financially.
Not only was my body not ready at 6 weeks, but I wasn't emotionally ready to be away from her and — I'd say, most importantly — my baby wasn't ready to be away from me. She had a very difficult time and so did her caregivers. Each child's temperament is different, so my next child may need something else completely. For my own sake, however, a longer maternity leave would do me good.
The way of a musician's work is usually a patchwork of income from multiple jobs. It's unconventional, but it's what I've always known so, to me, it's normal. I teach from home 3 afternoons a week, and sing at a church on Sunday mornings and in multiple professional choruses at varying times. The irregularity of the chorus work is the most challenging aspect of balancing my work and family obligations. Sometimes I have rehearsals once a week, sometimes every day and sometimes I don't have anything for a few months.
I'm very thankful for my husband who is understanding of my work and can be flexible with his schedule. We also couldn't do it without our family members, friends and babysitters who have filled in the gaps. It really does take a village to raise a child.
Tina McRorie
When I was pregnant with my first child, I was a social worker in the foster care system. I had recently earned my master's degree in clinical psychology and was on track to become a marriage and family therapist (MFT). I was working for a nonprofit, which predictably didn't pay a lot, but it did provide me with a supervisor who could sign my log sheets, getting me closer to my 2,000 hours so I could take the licensing exam.
After only 4 months at the agency, I learned I was pregnant. I knew I would not want to go back to work there, since the commute was too long, so I did the responsible thing and informed my employers and clients that I would be resigning near my due date. Unfortunately, this disqualified me from receiving the only paid leave we had in California at the time: state disability leave.
I was annoyed that I was being penalized for doing the right thing, but fortunately, my husband made a good income in Silicon Valley, so my integrity didn't hurt us too much in the wallet. We estimated that I could take 7 months off before finding a new job nearer to our home.
When my boy was approaching 7 months, I found a daycare center after — I admit — not much research. I did what many mothers do, taking him there for a few hours at a time, a couple of days a week to get him used to it while I started looking for a job. Well, I didn't find a job, and he most emphatically did not get used to it. He cried and needed to be held most of time. I found it hard to pump enough milk for him. After a couple of months, the director let me know that they would not be able to meet his needs.
My husband and I decided that we should keep him home for the time being, and I could look for work again in a few months. I did continue sporadically to look for work, but I didn't ever put him in daycare again.
When he was 18 months old, I learned I was pregnant again. At that point, I did the math and realized that if I went back to work when the new baby was 1 year old, even logging the maximum number of allowable weekly hours, I wouldn't be able to get the 2,000 hours in the 6 years allotted since I had registered as an MFT intern. I had fallen off the therapy wagon.
I had been an advocate for children since college. My plan had been to help adults process their childhood traumas and find healing. Now I was changing my perspective. As a parent, and as a member of Attachment Parenting International, I was seeing that many childhood traumas could be prevented through secure attachment with better-informed, better-supported parents.
Though I still believe that therapy is an important part of preparing for parenting, there are many therapists who can help.
I reflected that the foster parents I had worked with were told that they could make a huge difference in the lives of the children in their care by allowing the children to bond to them, but we did not tell them how to do that. I remembered learning about attachment in college — noting that psychologists, social workers, and a whole range of researchers and professionals in the child-development field knew about Attachment Theory, the protective power of a secure attachment and the specific parenting behaviors that built a secure attachment, but that knowledge was not making its way to the public in any significant way.
I decided that focusing on parent education and support as a volunteer API Leader was how I wanted to spend my energy. It would not make me any money, but it would allow me to make a positive impact on my community and be where my kids needed me: with them.
Fortunately, we were able to stretch my husband's income much farther than we originally thought. Although I did not contribute money to our equation, I was able to spend much less than I would have if I had gone back to work. First, I wasn't paying for childcare. As my children got older and more comfortable with being without me, we started having playdate childcare trades with a few families we knew from our API Support Group.
Not having a job also allowed me to spend less money on gas, food, clothes and other expenses — like a better breast pump. I did other in-kind trades; for instance, I did childcare once a week for my Jazzercise monthly pass. As the kids grew to preschool age, I enrolled them in a co-op preschool, which was much more affordable because I assisted in the classroom one day a week. Then I found an excellent alternative public school where parents were expected to volunteer on a regular basis. My husband had started talking about private schools soon after our kids were born, so I count this as a major savings that my being home afforded us.
After several years, my API coleader decided she wanted to follow her dream of opening an educational lending library, and I wanted to take my education and training and become a parent educator, teaching attachment-focused parenting. We tried to find members to take over the leadership, but when none came forward, we regretfully closed the group.
I spent a year or so procrastinating on writing my curriculum — well, I did have 2 kids keeping me busy — then I learned that API's cofounders had written a parenting curriculum! So I started on the road to becoming re-certified as an API Leader, opening a new API Support Group and building infrastructure and awareness of Attachment Parenting in my community.
When the cofounders presented a training in Los Angeles, I jumped at the chance to take the next step in my plan! I learned so much about meeting parents where they are and giving them evidence-based information about what children need for optimal development — that nevertheless often runs counter to the cultural norm. Meeting API Cofounders Barbara Nicholson and Lysa Parker, and other API Leaders as well as other helping professionals, was very inspiring.
I am excited to be poised to use the workshop format to reach parents-to-be and parents of young children in my community. I believe that learning about the importance of secure attachments and API's Eight Principles of Parenting will make a difference in the lives of many families, as it has in mine.
My two sons are in middle school and high school now. I know that I am very privileged to have been able to stay home with them this whole time. My volunteer work for API, as well as at my kids' schools, has allowed me to feel belonging and significance — to borrow a phrase from positive discipline — while balancing my work and family life with a degree of control that is not affordable to many.
The API Support Group that I started 5 years ago, Monterey Bay Parenting, will always be free for anybody who wants the information and support, because that's how we roll at API.
However, I will soon be able offer "Attached at the Heart" workshops on a tuition basis. This will make my husband happy, especially since he's still paying off my college loans! It will also allow me to set my schedule so that I am there for my kids when they need me. As teenagers, they need to stretch their wings and feel their independence, but they also need connection and guidance as much as they always have.
Rita Brhel
Before I became a mother, I would have identified myself as a career woman. I was a journalist who worked 50-plus hours a week, never missing the opportunity to take on the next big story. I was eager to climb the career ladder, with aspirations to manage my own news organization someday. I lived for praise from my editor and readers, and I was constantly on the lookout for a better-paying, more prestigious position. Like many young professionals, I was in a hurry to "prove" myself.
Then I became pregnant with my daughter Rachel, and I began to feel a tug in my heart. As I planned my maternity leave, I still thought that my life wouldn't change nearly as much as it did. I thought that I would take off a few weeks from work, then put her in daycare and go back to my journalism job. The only difference is, I thought, perhaps I'd cap my hours at 40 per week and limit any overtime.
Rachel was born 10 weeks early due to a placental abruption. As I lay on the hospital bed, hooked up to an IV of magnesium sulfate so potent that I had to be on oxygen during the treatment, watching my baby's heart rate bounce up and down on the monitor beside my bed, wondering what would happen to her, I had a thought: that what had defined success for me, up to that moment, doesn't nearly measure up to what it means to be a mother. And what my daughter needed, and still needs 9 years later along with her 8-year-old sister and 4-year-old brother, is a mother who is devoted to her role as a parent more than to her career.
Three months later, after my paid maternity leave, I asked to meet with my editor and told him that it was critical to me that I be allowed to work from home. It is true that my premature daughter was still dealing with major health problems, but the bigger reason for my request was because I felt that neither she nor I were ready emotionally for separation. He declined, and totally unlike my people-pleaser nature, I quit that day. I decided to do freelance-writing from home.
It has worked out well. I don't make the paycheck I did before I had children, but between my husband and myself, we make enough money — and save enough through our financial management — to live comfortably. It has been a little tricky to figure out how to financially float my parental leave after the births of my second and third babies, considering I am self-employed and don't have the option of paid leave.
But I am happy with my choice to balance my children's attachment needs and my family values with our financial needs and my career path, and know that as my youngest child grows beyond the critical early childhood years when attachment needs are strongest, I can always choose to go back to working outside the home if I want to.
I no longer live for my editors' and readers' praises. I live for time spent with my children. I don't care about accumulating possessions, but rather memories with my family. The social gatherings that matter most to me are playing or cuddling with my kids. And instead of looking to the next rung on the career ladder, I focus on how to have a stronger, more secure attachment with each of my children and my husband.
I know that not everyone can, or wishes to, quit their jobs to stay home with their children, but I urge everyone to be mindful of how they can best balance their child's attachment needs with their career aspirations and financial obligations. If you choose to continue working outside the home, understand that Attachment Parenting can be crucial for dual-income families. API's Eight Principles of Parenting provide a road map for establishing and maintaining secure parent-child attachment for all parents, but parents with limited daily time with their children report that Attachment Parenting is especially necessary to keep their close family bonds. The research fully supports this.
How About You?
Attachment Parenting International hopes you found inspiration to take parental leave from working seriously. Parental leave is a topic just getting started in the United States, and national discussions are sure to pick up in the next few years. Feel free to refer back to API's AP Month 2015 Research Paper for talking points on "Parental Presence: Birthing Families, Strengthening Society."