By Pam Stone, co-leader of API of Merrimack Valley, New Hampshire
**Originally published in the Summer 2008 AP in a Non-AP World issue of The Journal of API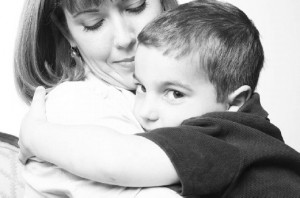 All babies cry. And all parents are continually striving to find the best way to respond to those cries.
Unfortunately, there is an abundance of misguided information about how to best respond to a crying baby; sometimes friends, family members, and even health practitioners may push advice upon parents that has not been well-researched.
Babies are born with brains that are only 25 percent of their full-grown size. Ninety percent of post-birth brain growth occurs in the first five years of life, influenced greatly by each interaction between the child and his caregivers. Brain connections are formed based on life experiences, particularly emotional experiences. If a child is not consistently comforted when in distress, his brain will not form the vital pathways that will help him learn to manage his own emotions and impulses. This can have a lasting impact into adulthood.
A baby signals distress by crying. Even a toddler who can speak has not yet gained the cognitive ability to translate strong emotions into words and therefore communicates distress by crying. This is a natural, normal form of communication for these young children. However, finding an appropriate response to crying in infants and toddlers is elusive, at best, for parents seeking advice from misinformed, yet well-intentioned, sources. Two commonly prescribed approaches include: ignore the crying and encourage the crying.
Ignore the Crying
There are those who would tell the parents to ignore their baby's cries. Proponents of this practice argue that the baby must learn early not to expect his parents to "cater" to him. They believe that he must learn quickly to self-soothe, or else he will manipulate the parent into unjustly serving him throughout his childhood.
This advice often begins shortly after birth with "cry it out" methods of sleep training, and continues into early childhood with instructions to "just ignore" tantrums or to punish strong emotions. Parents who follow this wayward advice claim that their babies sleep through the night at a very early age, demand very little attention, and are "independent" as toddlers. In fact, research has shown that children left to "cry it out" actually sleep less in the long term.
AP vs. Cry It Out

The Ferber Method is one of several approaches to parenting that encourages letting babies "cry it out, often in increasing time increments," as a form of sleep training. The idea is that the child needs to learn to become independent and to self-soothe in order to go to sleep alone. "Crying it out" advocates maintain that the child benefits from a full night's sleep as much as the parents.

API does not support any "cry it out" method. We maintain that it is essential to the child's emotional health that parents attend compassionately to their crying child.
Babies will not learn to self-soothe through an early push into premature independence. Brain research concludes that babies who stop crying because their cries go unanswered continue to experience activated pain centers in their brain, and their levels of the stress hormone cortisol remain elevated. In other words, they don't stop crying, they
simply switch to "silent" crying. Rather than learning to self-soothe, they remain stressed and give up hope that their cries will be answered.
They only appear independent because they have learned to distrust. Later in life, this inability to turn to others for help with emotions can lead to reliance on alcohol, nicotine, or other addictive or self-destructive behaviors.
The infant brain is very vulnerable to stress. During prolonged bouts of crying, cortisol can reach toxic levels, pain circuits are activated in the brain, and there is an agonizing withdrawal of opioids, the chemicals that promote positive feelings. These children are quite literally miserable.
Children who experience intense uncomforted distress can develop a shrunken hippocampus, a part of the brain involved in long-term memory and verbal reasoning. Combined exposure to cry-it-out as a baby and a child childhood of strict discipline leads to an increased risk of depression, anxiety disorders, stress-related physical illness, and alcohol abuse.
Babies do not have the brain function to allow clearly defined thoughts and intentions. They cannot be deliberately manipulative. They cry simply to communicate an unmet need. Allowing the cries to go unanswered interferes with the formation of a secure attachment bond with the parent. The type of attachment formed is based on the child's perception of the parent's reliability in providing comfort, support, and security. In a secure attachment, children have a predictable and safe bond with their caregiver.
When the attachment is insecure, a condition found in approximately 40 percent of toddlers in America and England, the child is less emotionally robust and more vulnerable to separation distress. These children are generally insecure, are more likely to be emotionally unstable, have difficulty in expressing and managing feelings, act out in unhealthy ways, and tend to be insensitive to others who are stressed. They are at greater risk for hostile, anti-social, or difficult relationships with other children and later with other adults.
"Insecure Attachment" Defined

Attachments refers to a child's quality of connection to a parent, not a parent's feelings about the child. Here are the key characteristics of each attachment type:

Secure attachment: Children respond happily to interaction or reunion with parents, greet parents actively, explore the environment around them while knowing where the parents are, seek contact with parents when distressed, and exhibit trust in their parents' responses to them.
Insecure attachment – resistant/ambivalent: Children become anxious and seek parents but then struggle to get away, are reluctant to explore the environment, become upset easily, and exhibit frustration with their parents' responses to them.
Insecure attachment – avoidant: Children avoid or ignore a parent's presence, show little response when parents are close by, display few strong emotional outbursts, and may avoid or ignore a parent's responses toward them.
Insecure attachment – disorganized: Children are not predictable in their behavior, seem unable to cope easily or be comforted when stressed, and show evidence of fear or confusion around a parent.

About 55 to 65 percent of children tend to fall into the "secure" attachment category, while about 10 to 15 percent tend to show an "insecure-resistant/ambivalent" pattern, 20 to 25 percent show an "insecure-avoidant" pattern, and 15 to 20 percent show an "insecure-disorganized" pattern.
Clearly, both brain research and psychological research suggest a strong contraindication to ignoring a baby's cries.
Encourage the Crying
There are others who would tell parents to encourage their baby's cries. Proponents of this practice argue that babies cry for two reasons: to communicate and to heal. After parents have ruled out any identifiable need, they are told that the baby is crying to heal from some trauma or distress, perhaps even from the prenatal or birth experience. They believe that the baby must cry and rage to release tensions, and that any attempt to soothe the baby will prevent this release. They believe that crying is a physiological response to stress – the body's natural way to keep us balanced chemically – and that soothing will hinder the body of its natural stress release.
They advocate holding a baby while he cries but caution against any behaviors that may comfort the crying, such as jiggling, patting, rocking, singing, swinging, repetitive noises, comfort nursing, and pacifiers. They believe these behaviors may become "control patterns" that prevent the release of needed tears. They believe that a baby's crying, raging, kicking, and thrashing represent emotions that must be fully released or else they will be carried over to future crying sessions or perhaps even to adulthood. They suggest there is a quota for tears that must be met in any given day in order to achieve emotional stability.
AP vs. Let 'Em Cry

Stress-Release Crying is one of several approaches to parenting that advocates encouraging children to cry as a way to release pent-up stress in order to heal and release strong emotions. Parents are to hold their infants and let them cry, and not try to calm the baby with distractions such as toys or pacifiers.

While API agrees that the parent should recognize and empathize with the crying child, we also believes parents should be available emotionally and physically to help soothe the distressed child.
The fundamental flaw with this advice is that it assumes the parent will always be able to identify the needs and discomforts of the child. Unfortunately, this is unrealistic and unwise.
Imagine that a baby is trying to communicate "The seam on my sock is irritating my toe." The parent is unable to identify the need using her mental checklist, so she holds the baby without comforting behaviors, smiles at him, and says "You're doing a great job crying" and "You'll feel much better after you cry." She might even just smile at him and not say anything, so as to not discourage the crying. Of course, the baby will quickly become enraged but not because of any unspent tears over previous trauma. Rather, he will be agonizingly distressed with frustration about the inappropriate reaction from the parent.
This advice further fails to recognize that a baby's brain is not capable of self-soothing, and it ignores the dangers of prolonged crying. While the approach does advocate for staying near a baby who is distressed – which is helpful because close body contact with a calm adult helps regulate a baby's bodily arousal system – it restricts the caregiver from using other key comforting behaviors.
If the close contact alone is not enough to soothe the child, or if the parent's attempts to escalate the crying are effective, there will be further release of potentially damaging cortisol in the child's brain and there will be no release of calming opioids. The child's emotions may spiral out of control, leading to feelings of anger and rage and potentially toxic brain chemistry.
In its most extreme application, proponents of these practices suggest that sometimes children need to be held tightly while they cry, so that they have physical resistance to push against while they work through their emotions. This approach has haunting similarities to a controversial therapy practice used to treat attachment disorders, called "attachment therapy" or "holding therapy."
AP is NOT Attachment Therapy

The term "attachment therapy" is used to describe controversial practices such as forced-holding therapy; techniques to provoke carthartic emotional discharge; and other coercive, restraining, or aversive procedures. API does not support the use of attachment therapy, which we find to be abusive. Attachment therapy practice are not consistent with the Eight Principles of Parenting.

API joins the American Psychological Association in endorsing a 2006 report by the American Professional Society on the Abuse of Children, which contraindicates these therapies, saying in part: "Treatment techniques or attachment parenting techniques involving physical coercion, psychologically or physically enforcing holding, physical restraint, physical domination, … are contraindicated because of risk of harm and absence of proven benefit and should not be used."
On the other hand, it is certainly not healthy to encourage a baby or child to "stuff" his emotions. Children feel real and intense pain over events that adults are able to put into perspective through a background of experience and context. Telling a child it is "not a big deal," or insisting that he "stop crying" when he is clearly upset, has unfortunate consequences related to how he manages feelings into adulthood. Bribing a child to stop crying can lead to unhealthy emotional behaviors. If each time the child cries he is given a cookie to "make it better," then cookies become the mechanism to suppress powerful emotions rather than learning to effectively manage them.
Related Article

For more information on the connection between childhood obesity and eating food for emotional comfort, read "Solution in Childhood Obesity is in the Parents' Behavior" in the AP News Desk section of this website, or click here: http://theattachedfamily.com/membersonly/?p=1199.
There are times when a child is sad or upset and needs to release emotions through crying. In these instances, it is possible to accept and empathize with the emotions, helping him put feelings into words and comforting the distress, without either encouraging or discouraging continued crying. This emotion may surface at the time of the event, or some time later. Emotions from events that occur when a child is separated from his parents may not surface until after they are reunited, and may be triggered by seemingly unrelated events. While children do need to release these emotions, they should be in control of when, how, and for how long they cry, and they need to know that a warm, compassionate parent will help to soothe their distress.
Once children begin to release their emotions and their brain becomes flooded with stress hormones, they are developmentally unable to bring themselves back into balance alone. Babies need to be held and comforted when they cry. Each time they are assisted in this process, their brains form pathways that will serve them through the rest of their lives.
If a child is raised in an environment where crying is discouraged or punished, then he may need help in adulthood learning to connect with and to express emotions. Babies, however, do not need encouragement to cry. It is an instinctual reaction to an unmet need and a basic way of communicating.
Comforting is a natural and instinctual parental reaction to crying, and it is healthy both for the child's brain development and for the parent-child attachment. Encouraging or provoking crying runs counter to current brain research showing that children need parents to soothe them through their intense emotions.
Harvard Study: AP is Best for Crying Babies

A 1998 Harvard University study indicated that parenting methods that allow babies to cry without attempting to soothe are detrimental to normal child development, and that a better approach to crying is to keep the baby close, console quickly, and co-sleep.

In their research, Michael L. Commons and Patrice M. Miller discovered that children who were raised by parents who didn't console their cries were more likely to develop post-traumatic stress syndromes and panic disorders as adults. The study showed that not responding to crying produced high stress levels in infant brains, causing permanent damage to the future adults' ability to manage the effects of stress.

Commons and Miller found that American childrearing practices are influenced mainly by fears of children growing up dependent and insecure. The research showed that attachment-promoting behaviors between the parent and child, including responding quickly and appropriately to crying, has been proven in other cultures to be effective in raising children to become empathic, nonviolent adults who are capable of having emotionally healthy relationships.
The AP Approach to Crying
Fortunately for parents and babies alike, there is a warm and compassionate middle ground between ignoring and encouraging crying. Parents who practice Attachment Parenting (AP) are familiar with this ground. It involves recognizing and empathizing with a baby's emotions, and patiently working with him to uncover the unmet need causing the tears. If a parent is unsure why a baby is crying, she can continue to explore potential causes while comforting him in a way that accepts his emotions as genuine and acceptable. The parent can allow her baby to express emotion without denial or provocation, while soothing him in a way that teaches his brain healthy forms of emotional regulation.
For More Information

The Fussy Baby Book by William and Martha Sears

The Science of Parenting by Margot Sunderland

Why Love Matters by Sue Gerhardt
The hormonal system of a distressed child is regulated through physical contact with a calm parent. Being in close proximity to a parent whose hormones are in balance helps the child's body suppress stress hormones and release calming ones, allowing his body to manage the reaction to his emotions. This is a physical response within the child's body that requires closeness to a parent.
Being in close proximity to a parent whose own hormones are regulated helps the child's body to control the release of stress hormones and to release the necessary pleasure hormones to calm him. Experiencing this each time the child cries helps his body learn how to manage his emotions.
If the parent is stressed, she will be unable to provide a calming presence for the baby. It is important that she find a way to restore personal balance as quickly as possible. If the baby's cries cause the parent to feel frustrated or even raging, she needs to examine the reason and take action to heal herself. If her reaction stems from unresolved issues from her own childhood, she should consider seeking help from a parenting counselor. This would help the parent to give the child a loving and normal response.
Crying is a natural and normal form of language for babies. It is how they communicate their needs. It is necessary to a child's normal brain development for his parents to respond appropriately to his cries, neither ignoring nor encouraging crying but instead recognizing a baby's emotions, empathizing with him and providing comfort. This is the approach to soothing a crying infant that can best ensure emotional health in his childhood, adolescent, and adult years.
Research on Responsiveness to Crying

The research favors AP. Here are several of the studies that demonstrate the benefits of parents responding to their children's cries:

Mothers who accurately perceive the urgency of their infants' cries respond appropriately, and their infants tend to have higher cognitive development and language acquisition scores. The mothers who respond to their infants' cries inconsistently are found to have lower self-esteem and lack social supports. (Lester et al, 1995)
Mothers of securely attached infants tend to be more sensitive, reliable, and accepting of their infants. (de Wolff & Van Ijzendoorn, 1997)
The synchrony or asynchrony of interactions between parent and infant determine security of attachment. Mothers who are inconsistent, intrusive, and over-stimulating are more likely to have insecure attachments with their babies. (Isabella & Belsky, 1991)
Toddlers who have insecure attachments with their mothers and are inhibited in their behavior exhibit higher cortisol levels in stressful situations. (Nachmias et al, 1996)
Parental warmth and positive expressiveness with children is strongly correlated with children's development of empathy and social functioning, especially in older children. (Zhou et al, 2002)
Mothers whose behavior toward their preschool children is responsive, non-punitive, and non-authoritarian are more likely to have children who exhibit pro-social behavior. (Zahn-Waxler et al, 1979)
If a child's need for comfort is not met by an emotionally responsive adult, the child's nervous system can, over time, remain in a hyper-aroused state. (Graham, et al, 1999)
Uncomforted stress can lead to a host of physical ailments later in life including eating and digestive disorders, poor sleep, panic attacks, headaches, and chronic fatigue. (Fields, 1994)
If left to cry alone in childhood, the growth of the higher level brain functions that regulate anti-anxiety chemicals in the brain are impaired. Without therapy in later life, this may result in clinical depression. (Hariri et al, 2000)