From API's Publications Team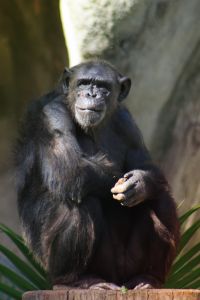 A study published in the Development Pyschobiology journal involving the care of orphaned chimpanzees could help change the way human orphans are cared for.
According to an article in the European Union's CORDIS News, "Chimp Study Highlights Importance of Emotional Care in Childhood," orphaned chimps that were mothered by humans fared better emotionally than chimps raised in a more institutional setting.
The study, which was conducted at the Yerkes National Primate Research Center's Great Ape Nursery in Atlanta, Georgia USA, was funded by the FEELIX GROWING project. In the study, the chimps that received emotionally responsive care — which included time with human caregivers doing grooming, playing, and other interactions — were happier, smarter, and more emotionally adjusted than chimps given standard care, which focused solely on meeting physical needs.
The mothered chimps were less easily stressed, less often attached to comfort items such as blankets, had healthier relationships with their caregivers, and were more cognitively advanced.
The insitutionalized chimps were more likely to display disorganzied attachment behaviors such as rocking or clutching a comfort item when distressed instead of turning to the caregiver. Because similar behaviors have been noticed in human orphanages and with neglected and abused children, the study's authors believe  theproposed strategies of increasing emotionally sensitive caregiving to orphaned chimps can be translated to orphaned humans.
"The attachment system of infant chimpanzees appears surprisingly similar to that found in human infants," said Professor Kim Bard of the University of Portsmouth in the United Kingdom. "Early experiences, either of warm, responsive caregiving or of extreme deprivation, have a dramatic impact on emotional and cognitive outcomes in both chimpanzees and humans. Parental sensitivity is an important factor in human infant development, and it would seem the same is true for great apes, as well."
To read the entire article, go to http://cordis.europa.eu/fetch?CALLER=EN_NEWS&ACTION=D&SESSION=&RCN=30417.