By Carrie Kerr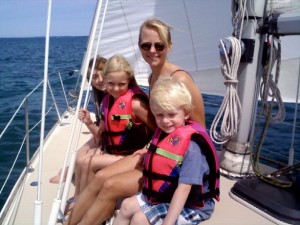 I have always been of the opinion that days which are 70 degrees and sunny should be declared "National Hooky Days." After all, what could be more important than getting outside on such a perfect day?
The kids are in full academic mode, complete with homework, projects, concerts, and tests. For many children, their days and weeks are heavily scheduled, irrespective of 70 and sunny.
As 3 p.m. approached on one of these flawless days, I put aside my projects and began preparing for the children to come home. Usually their arrival is a flurry of motion, commentary, questions, and requests. It is my job to gather them in, listen to them, support them, and direct them toward what needs to be done in the final stage of the day. On this particular day, however, I had an additional task. My job was to wipe tears.
Two of my children came home with what resulted in, simply…a tough day. I had to think fast of what we would do to take an emotionally trying day and make it better.
Adults and children alike, this is a common scenario. We have responsibilities and schedules that often push us over the edge. As a culture, we are having trouble dealing with stress. We see trends of overeating, overspending, and overindulging in drugs or alcohol as a response to a difficult day or phase in life. Do I want to teach my children that when they've had a hard day they should go ahead and indulge in an unhealthy pick-me-up? Am I concerned about reinforcing habits that will lead to a sedentary lifestyle? Will these habits, in turn, set them up for a higher risk of poor health and depression and, thereby, actually set them up for failure? How is it that we are stuck with this as our mindset, and how do we change it? One solution could be surprisingly simple.
My firstborn was a fairly high-strung baby, but the solution to helping her deal with her tension was easy: She loved anything outdoors, and the simple act of stepping outside calmed her down. I remember one rainy evening in particular; she was maybe six weeks old and was in the colicky phase of crying for several hours every evening. My husband was walking her around, waiting it out. When he stepped outside, her crying ceased and she cooed; inside, she screamed. So, he paced, under the eaves of the house as it poured down rain. We laughed, having pegged the needs of this child so early on.
It quickly became our habit to spend as much time outside as possible. That winter, our pediatrician was concerned about my eight-month-old baby's chapped cheeks. "Do you really need to go outside so much?" He asked me. "Yes, we do," I responded.
This coping technique evolved into a lifestyle for our growing family. All of our children spent endless hours gazing around the woods as we hiked them through local trails in the Kelty backpack. As they aged, they wiggled and begged to be set down and run the trails. It was, and continues to be, a free place for them — a place where they can forget their worries and use their imagination; a place where they can explore, discover, and learn with few rules or boundaries; a place where they can truly play in the name of wholesome childhood fun; a place of pure and real escapism.
It has quite the same effect on me.
Setting positive examples and guidance about how to handle life in general is the basic job of any parent. The solution to a stressful day must be something that has an overall positive impact on our physical, emotional, or spiritual health. I want my children to be able to understand and apply that concept. On this particular day, when my children were struggling and forlorn, I knew what they needed: Bookbags, homework, and practice time aside… We grabbed our hiking shoes and nets and headed for the woods. Within an hour, my children were thinking nothing of their stressful day and only of the number of minnows they had caught.
This, I call "nature therapy." It is an often-overlooked, yet readily available and free program. Feel it, breathe it, and pass it onto the people in your life.