By Rita Brhel, managing editor and attachment parenting resource leader (API)
Having nursed one child and not the other, I can say with confidence that there is something truly magical about the breastfeeding relationship. So much more than a transfer of nutrients from mother to baby, the act of breastfeeding touches on each of the Eight Principles of Parenting from nurturing touch and safe sleep to consistent care and personal balance. Breastfeeding is, as Attachment Parenting International co-founders Barbara Nicholson and Lysa Parker write in their book, Attached at the Heart, the very model of an attachment bond.
And as Dr. Keren Epstein-Gilboa of Toronto, Ontario, Canada, explains through a new book intended for professionals working with new parents — Interaction and Relationships in Breastfeeding Families: Implications for Practice — the choice to breastfeed positively impacts much more than the attachment bond between mother and baby, but also among all members of the family unit, from siblings to the father, even after the breastfed baby has weaned.
A nurse psychotherapist with a long list of credentials behind her name (PhD, MEd, BSN, RN, FACCE, LCCE, IBCLC, RLC), Keren has been working with new parents and families with young children for the past 25 years as a counselor, lactation consultant, childbirth educator and birth supporter, researcher, and preschool teacher. She is also well published in scientific journals and other publications on topics ranging from pregnancy and birth to breastfeeding and early parenting. Interaction and Relationships in Breastfeeding Families was borne out of Keren's own clinical and research experiences.
I devoured the information presented in this book. It reveals to the reader the psychological aspects of breastfeeding on the whole family, not just through the intimacy between mother and baby but how breastfeeding literally shapes family development and promotes sensitive interactions between all family members. And then, it follows up with implications for the professionals working with young families. Interaction and Relationships in Breastfeeding Families also gives another dimension to breastfeeding education for lactation consultants, counselors, and others who work with new parents in their transition to family life.
RITA: Keren, how did you first become interested in Attachment Parenting?
KEREN: My experience as a nursing mother is the basis of my interest in Attachment Parenting and interactions in breastfeeding. I parented in a style that might be defined as Attachment Parenting without knowing that there was a name associated with this behavior. My own experiences taught me the importance of mothering in tune with child needs, including cue-based breastfeeding into early childhood. I also learned how this style of breastfeeding and parenting seems to be misunderstood and is criticized by others.
RITA: What led you to write your book?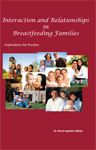 KEREN: Insights from my personal experience influence my clinical work and research interests. My aim is to increase the understanding and respect for physiologically based nursing and associated parenting through research. I use recognized theories of development to clarify and validate behaviors in my writing. The material in Interactions and Relationships in Breastfeeding Families reflects my first study on maternal-infant interaction during breastfeeding that was published in a peer-reviewed journal of psychology in 1993. Later training as a family therapist demonstrated to me how important it is to look at the entire family in order to understand more about the interchanges between the nursing mother and child. In 2006, I completed a study that used a family systems approach to describe the entire nursing family. The results of this study are described in my book.
RITA: How do you hope for your book to benefit families?
KEREN: I hope to help families in two ways:
By providing them with information about themselves that will hopefully normalize their experience and fortify their behaviors
By enriching families' interactions with professionals by describing physiologically based breastfeeding patterns and associated parenting to services providers.
I talk about the feelings that might arise for those providing services to families whose lifestyles and attitudes might differ from their own view of family life. Many services providers in Western contexts criticize cue-based nursing, nursing into early childhood, and ongoing respect for children's needs for closeness. I believe that helping services providers' recognize their bias may enrich their ability to listen to and to provide optimal information to families.
RITA: How does your book fit into API's Eight Principles of Parenting?
KEREN: I think that the work Attachment Parenting International does is very important!
My book demonstrates how families apply many of the Principles of Attachment Parenting to real life and also discusses the implications of this style of parent-child interaction for parent development, positive child outcome, and family function:
Preparing for Pregnancy, Birth, and Parenting — The book demonstrates that parents' attitude toward birth affects their nursing behaviors.
Feeding with Love and Respect — Most of the families described in the book see birth and breastfeeding as a part of a physiological continuum, and this seems to facilitate cue-based nursing. Physiologically and cue-based nursing implies that parents respect and respond to infants' and older nursing children's needs and signals for nursing. The practice that parents get responding to infants and children's cues for nursing seems to enhance the development of a parenting style that respects children's needs and focuses on responding to children's signals.
Responding with Sensitivity — This responsive style of interaction is called sensitive or attuned parenting in the literature and appears to contribute to healthy child development. Cue-based and child-focused parenting also implies that parents suit their interactions to children's individual characteristic and evolving capacities.
Using Nurturing Touch and Ensuring Safe Sleep — The sensitive parenting style associated with cue-based actions through nursing in infancy carried on into other behaviors, including children's needs for proximity and touch at all hours. Most of the families respond to their children's needs for closeness by holding, carrying, and sleeping with or near their children. Children's changing needs for proximity are respected and responded in an individual manner.
Practicing Positive Discipline — Open communication, sharing, and parents' capacity to tolerate children's unique needs, including in difficult situations, seems to be the central means that parents use to guide children.
Providing Consistent and Loving Care — Sensitive tactile interactions evolve into a warm communication style that helps parents meet their children's changing developmental needs. Parents see their children as individuals, enabling them to suit interventions to the specific needs of each child.
Striving for Personal and Family Balance — Open communication and reverence for all of their children's needs seem to help parents establish and also restore balance to the family system. Parents share joint values and alter couple interactions to reflect infants and children's changing needs. Older children's experiences of being heard seem to help them tolerate younger siblings' needs and also enrich their capacity to understand others – an important tool contributing to family function.
RITA: What tips do you have for parents seeking a closer bond with their baby?
KEREN: Parents should use nursing as a method of learning how to read and respond to babies' signals. The physiological and psychological meaning of nursing for infants prompts them to cue frequently to nurse. Parents may learn about their child and parenting by observing, interpreting, and responding to children's cues for nursing. Cues include signs of readiness to commence and finish a nursing session. In addition, women in particular learn how to mother by interacting with their babies during the nursing sessions. Men internalize sensitive fathering by participating in cue reading for nursing, by observing mothers, and also by matching their supportive actions to the changing needs of the nursing dyad. Both parents may use the touch associated with nursing to learn more about sensitive parenting.
RITA: Thank you, Keren, for your time and insights. Do you have any closing thoughts you'd like to share?
KEREN: I go back to my reasons for studying and writing about breastfeeding families and issues related to an Attachment Parenting style: I want to help strengthen parents and enable them to see birth and nursing as normal, rather than medically owned events. I hope to help parents feel comfortable responding to their infants' and children's cues, and to feel that their role as parents is important. One might recall that an important insight that I brought from my parenting experience to my clinical and research work was that professionals misunderstood cue-based nursing and parenting. Hence, I also directed my book towards professionals and dealt with the bias that they might have toward cue-based breastfeeding into early childhood and associated parenting. I hope that parents will tell their health care and other professional services providers about the book and encourage them to read it.