By Rita Brhel, managing editor and API leader
Many new parents or parents-to-be would like to stay at home with their children but find the transition from a professional career to a stay-at-home lifestyle to be a bit bumpy. I certainly did. I was used to fast-paced days as an investigative news journalist and often nights and weekends as an assistant managing editor. I wanted to stay home after my first baby was born, but I had quite the learning curve as my life slowed to the pace of caring for a baby. I wouldn't have traded any of those amazing moments of watching my children grow, but it would've made for a smoother first few years if I had been more prepared for how life changes with a new baby, especially if you're a newly minted stay-at-home parent.
Recently, I had the chance to interview Catherine Myers, director of the Family and Home Network (FAHN) about their new Transitioning Home online program, offered to parents wishing to explore this option to practice the Attachment Parenting International sixth parenting principle of Providing Consistent and Loving Care.
RITA: Catherine, it is so good to talk with you. Can you tell us about FAHN's mission and what you offer parents?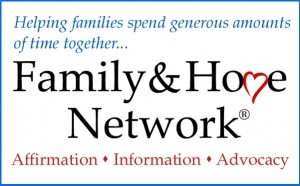 CATHERINE: Family and Home Network, founded in 1984 and originally named Mothers at Home, is a nonprofit organization offering affirmation, information, and advocacy to parents. Our mission is to advocate for parents and children concerning their need for generous amounts of time together and to support parents by affirming the choice to be home or to cut back on paid employment. For almost three decades, we've been listening to parents and learning from them. We are nonpartisan and recognize that there are many perspectives on almost any question faced by parents. We aim to serve as a clearinghouse of information and to offer parents lots of opportunities to learn from each other. Advocacy is an important aspect of our work; it includes speaking out to the media and to policymakers, promoting inclusive family policies and encouraging parents to speak up for themselves.
For 22 years, FAHN published the award-winning monthly journal Welcome Home; we also created four books, other special publications for parents, and information papers for policy makers. Today, FAHN continues to reach parents throughout the world with its publications, website, social media outreach, and online workshops. Our Campaign for Inclusive Family Policies calls on policymakers to respect parents' choices about the ways in which they meet their income-earning and caregiving responsibilities.
RITA: Why did you decide to found FAHN? What was your inspiration?
CATHERINE: The organization was founded by three at-home mothers whose goals were:
To help mothers at-home realize they have made a great choice;
To help mothers excel at a job for which no one feels fully prepared; and
To correct society's many misconceptions about mothering.
Over the years, the organization's goals have evolved and expanded to include at-home fathers, as well as families in which parents share and/or divide the income-earning and caregiving responsibilities. Family and Home Network has become both more inclusive and more focused on the critical importance of nurturing relationships between children and parents.
As for my involvement in the organization, it began in the mid-1980s, when my children were young and I was a reader of the monthly journal Welcome Home. Soon after I moved to the Washington, D.C. area, I answered a call for volunteers and began my decades-long involvement with the organization. I learned so much from my colleagues, and was inspired to return to college to finish my degree. Weaving my work and my studies together, I graduated recently with a Bachelor of Individualized Studies in Human Development, Parenting, and Policy.
RITA: Why did you create the Transitioning Home program?

CATHERINE: In listening to parents, FAHN realized that although support is important to all parents, those who have just decided to leave the workforce to be at-home parents are especially in need of information and affirmation. To meet the needs of these parents, we first created a book, Discovering Motherhood, and then a workshop series, Transitioning Home. Meeting once a week for six weeks, the Transitioning Home workshops offer parents opportunities for reading, reflecting, and discussing. The workshop materials include informative articles, essays written by parents that explore thoughts and feelings, and both individual and group exercises designed to help parents clarify values, tasks, and goals. First piloted in 2004, the Transitioning Home workshops were re-introduced last spring using new technology—Google+ hangouts. Participants can join in right from their homes. Those interested in future Transitioning Home workshops can sign up at www.familyandhome.org/content/transitioning-home-discussion-groups.
API Auction Item!

For the API Auction running from October 18-31 during the 2012 AP Month, FAHN is offering a custom Transitioning Home workshop, to begin between January and April 2013. The winning bidder invites up to eight people to participate–we meet online right from our homes. Catherine Myers will be facilitating this workshop, and she looks forward to thought-provoking discussions and once again witnessing the power of parent-to-parent support!
RITA: Why do you believe that it's important that parents are able to choose to stay home with their children?
CATHERINE: As API knows, there is an abundance of scientific research showing the importance of providing consistent and loving care to children. Parent-child relationships require time–and each family must weigh many factors in making decisions about time. Other factors include health and special needs, job requirements of one parent (such as travel or long hours), commuting distance, and career preferences. Current public policies offer a panacea: support for parents who use paid child care. Meanwhile, parents who choose (or want to chose) to care for their children themselves are ignored. Highly-respected scholars have proposed inclusive policies such as a early childhood benefit. This benefit would give low- and moderate-income families a choice: spend the funds on child care services or use the funds to replace some of the lost income of a stay-at-home parent. Our current public policies offer only one option: child care—and this is often not the best choice for children or the choice parents want to make. We must remember that families do not make one choice and stick with it—many parents' decisions about employment change. Flexible, inclusive public policies would support families as they change and adapt over time and with the changing needs of their children.
RITA: Thank you so much for your time and insights, Catherine. Is there anything else you'd like to offer?

CATHERINE: It's important for parents to speak up to their elected officials. Corporations contribute millions of dollars to advocacy for "working families" (among these contributors are child care corporations). Lobbyists for working families focus on policies designed to help parents stay in the paid workforce. Families with an at-home parent have no such lobbying presence. FAHN has just added an advocacy tool to our Campaign for Inclusive Family Policies. We hope to see lots of API parents speaking up for inclusive family policies!
Caring for Our Children

Explore the API parenting principle of Providing Consistent and Loving Care by reading the "Caring for Our Children" issue of the Attached Family magazine. Inside, you'll read:

Barbara Nicholson & Lysa Parker, API's cofounders, on why this principle is just as fitting for stay-at-home parents as working parents
Richard Bowlby–that's right, son of the "father of Attachment Theory," of which Attachment Parenting is based–on how a baby chooses an attachment figure
On whether preschool is necessary for child development by Naomi Aldort
And much more.

Join API to access your free electronic copy!