Coming Soon to The Attached Family:
How Attachment Parenting may prevent bullying behavior in your child
December 2012 – API Links – Your monthly API e-newsletter
The December 2012 API Links edition links you to news on applying the API Principles to ourselves, cultivating empathy, surprising news on breastfeeding, colic, stress, resources for fatherhood, violence prevention, sibling rivalry, … and what kind of parent are you?
Keep up with API through API Links!
APtly Said blog – Ways of Parenting with Attachment in Mind
2012 in Review with API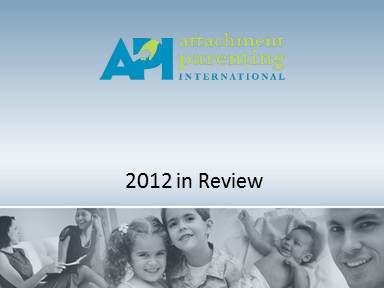 Attachment Parenting International observed its 18th anniversary in 2012 because of dedicated leaders, volunteers, staff, and generous donors.
The anniversary was no small accomplishment given the fate of many nonprofits and businesses in recent years. Your response to API's appeal last year was critical to API's ability to continue another year. Your contributions making that happen demonstrated the importance of API's work.
Here's the difference we made together in 2012
You won't believe how important parent support is…
…until you read it. You can. See what parents have to say. You can be the cause of even more ripples with API.
Help us sustain this impact and create more stories by making a financial contribution to API today.