By Shoshana Hayman, director of Life Center, The Israel Center for Attachment Parenting, www.lifecenter.org.il
One of the best things about summer vacation for children is that there is no fixed schedule. Kids don't have to get up early to be in school on time. There is no homework that has to be handed in before a deadline. There are no school bells that compel children to change activity or location each hour. Summer vacation is a chance to breathe and enjoy the freedom from being forced to conform to someone else's schedule and demands.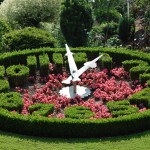 If they could have their way, children might spend summer vacation doing exactly as they please. Waking up in the morning at 11 a.m., staying in their pajamas until well past noon, eating breakfast cereal out of the box followed by a popsicle, sitting in front of a screen—computer, TV or iPad—with no time limit, coming inside from playing outside according to their own whim, and staying awake past midnight. In truth, some of us adults wouldn't mind getting a break from our intense schedules and spending the summer this way, too!
The more mature a child is, the more he can see the value of keeping a sense of order and routine to his life. The more he can develop balance and the ability to overcome his feelings of "I don't feel like it" with the tempering feelings of "I want to do what's good for me and/or others," the more he can take control of his life and create healthy habits and routines for himself. Since children lack maturity and the tempering feelings that come with more mature thinking, they depend on us to take responsibility for them. It's up to us to create order for them, help them keep healthy daily habits, and give them a sense of routine, even during summer vacation. While the schedule does not have to be as intense as it is during the school year, we still want to take care of them in a way that's in their best interest and give them a feeling of security from knowing that their parents are in charge and taking care of their needs.  
To plan a summer program that serves the needs of parents and children alike, you can ask.questions such as:
What routine, schedule and rules do I need to put in place during the summer vacation?

What activities would be appropriate to include in our summer schedule?

What materials or equipment do we need for these activities?

Who can be in charge of these activities in addition to Mom or Dad?

How can this be a time to strengthen our family relationships?
This can begin a creative process of thinking about and planning an enjoyable summer program for the family. We can share these plans with our children and see if they can add some of their own ideas to this process.
The potential of disorder and chaos of summer vacation can turn it into a stressful and unpleasant time for both parents and children. As parents, we have the power to turn it into a restful, creative and wonderful time, which we and our children will remember with a smile forever.
In The Opportunities of Summer Vacation, Shoshana Hayman shares some ideas about deepening family connection and creating lasting memories this summer.