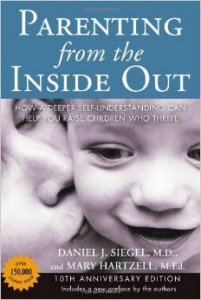 Have you joined the API Reads movement? If not, now is your time to do so. We are still reading Parenting from the Inside Out by Daniel J. Siegel, MD, and Mary Hartzell, MEd for the general audience and for those with children under the school-age years. We will also be reading Parent Effectiveness Training by Dr. Thomas Gordon for those with children who are in the school-age years and above.
For Parenting from the Inside Out, in the month of October we will be finishing up the book by reading chapters 7-9. The topics for these chapters will be:
Chapter 7 – How We Keep It Together and How We Fall Apart

Chapter 8 – How We Disconnect and Reconnect: Rupture and Repair

Chapter 9 – How We Develop Mindsight: Compassion and Reflective Dialogues
For Parent Effectiveness Training, we'll be reading Chapters 5-9. The topics for these chapters will be:
Chapter 5 – How to Listen to Kids Too Young to Talk Much

Chapter 6 – How to Talk So Kids Will Listen to You

Chapter 7 – Putting I-Messages to Work

Chapter 8 – Changing Unacceptable Behavior by Changing the Environment

Chapter 9 – Inevitable Parent-Child Conflicts: Who Should Win?
Our discussions happen on GoodReads, so don't hesitate to join in the conversation. We read a chapter a week, and sometimes you can't get through the chapter and yet you'll find you'll still be able to participate in the conversation. So come join the other 500+ members who are already part of the conversation!