By Sarina Behar Natkin, LICSW, parent educator, www.growparenting.com. Originally published on TheAttachedFamily.com on May 4, 2012.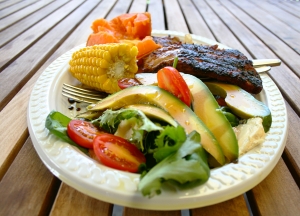 "What's for dinner?"
"Ugh, I hate green beans!"
"Can I have dessert yet?"
"I'm not hungry (but I will be as soon as you clear the table)"
The list of mealtime complaints can go on and on–not to mention the mayhem that may ensue before your little one can even talk. Not many parents can forget the frustration of thrown food, the mess of the yogurt in the hair, or the game of "watch Mommy pick up my bagel over and over again."
Food is a huge part of human life, and most parents I meet cannot wait to dive into the world of food with their babies. I am the wife of a food blogger and chef, and we must have spent weeks talking about what our first food would be! Little did we know we were in store for a whole lot more than the idyllic family meals of The Cosby Show.
Clearly, Americans seem to have a love-hate relationship with food. Scan the headlines in just about any newspaper, and it's filled with what to eat, what not to eat, who should eat less, who should eat more. It's enough to drive an anxious parent to confiscate Halloween candy, only to wallow in chocolate when no one is looking. Continue reading Recipe for Raising Healthy Eaters →