By Sarah Fudin, social media and outreach coordinator for USC Rossier Online.
According to a recent infographic from USC Rossier Online, "School Bullying Outbreak," one in four children are bullied every month and 160,000 students miss school every day to avoid bullies. But what is really disturbing is how many children can easily become the perpetrator. Up to 42 percent of students have admitted to bullying a peer, and 43 percent of middle school students have threatened to harm a peer. Thus, not only do we need to teach our children how to deal with bullying, we also need to teach them not to engage in bullying behavior.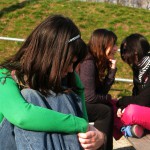 Several studies have shown that secure attachment to parents decreases the chance of a student becoming a bully. In a 2010 study published in the Canadian Journal of School Psychology, "Attachment Quality and Bullying Behavior in School-Aged Youth," Laura M. Walden and Tanya M. Beran found a correlation between lower quality attachment relationships to primary caregivers and bullying behavior. Students' sex and grade levels were not significant factors. Students that reported higher quality attachment relationships with their parents were less likely to bully others.
A University of Virginia study conducted by Megan Eliot, M.Ed. and Dewy Cornell, Ph.D., "The Effect of Parental Attachment on Bullying in Middle School," found a relationship between insecure parental attachment and children who bullied. Continue reading Prevent Your Child From Becoming a Bully →