By Rita Brhel, managing editor of Attached Family, API's Publications Coordinator and API Leader (Hastings API, Nebraska)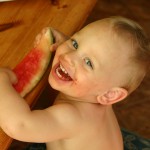 Feeding a child involves more than providing nutrients. From birth on, there is a very strong emotional component. This is easiest to recognize with babies and toddlers, who rely on comfort sucking as a way to cope with stress. But we continue to see it far beyond these early years, such as in how we crave a cookie or soft drink while unwinding after a hard day.
This tendency to comfort ourselves through food is called "emotional eating." We all do it sometimes, but some people rely on emotional eating as a primary coping mechanism, and this can lead to problems such as binge eating or obesity. Anorexia nervosa and bulimia nervosa are also related because those affected find a level of comfort through controlling their food intake. The common link is an unhealthy relationship with food.
Attachment Parenting International addressed this topic during Attachment Parenting Month 2009, when the theme "Full of Love" sparked discussions on how family relationships, particularly secure parent-child attachment, can promote a healthy relationship between children and food, and lower the risk of obesity and other eating disorders.
I interviewed Marian Tanofsky-Kraff, PhD, as part of the effort. The original interview can be found in the Attached Family magazine 2010 "Full of Love" issue.
Dr. Tanofsky-Kraff is an associate psychology professor at the Uniformed Services University of the Health Sciences, as well as an obesity researcher at the Eunice Kennedy Shriver National Institute of Child Health and Human Development, both located in Bethesda, Maryland, USA. Previously, she was a binge-eating disorders research associate at the Yale Center for Eating and Weight Disorders in New Haven, Connecticut, USA. Her research program evaluates interpersonal psychotherapy with adolescent girls at high risk for obesity.
API: Let's first get a good picture of what emotional eating is. Can you tell us what a healthy relationship with food looks like?
DR. TANOFSKY-KRAFF: Sometimes we all emotionally eat. To some extent, I don't think this is a bad thing. If you want to have a cookie, that's OK. When it becomes a problem is when you're eating when you're not physiologically hungry—when you're using food to cope. A healthy relationship with food is when we eat only when we're physiologically hungry. We can enjoy our food, but it's unhealthy to allow it to control your life.
For some people, food is a "responsible" vice. They don't drink alcohol, they don't use drugs, they don't gamble. They basically live healthy lives, except that food or certain types of food are their emotional vice. The problem is, unlike alcohol or drugs, people can't abstain from food. They need to learn to find a balance with food. There's nothing wrong with eating a slice of apple pie while you're talking through what's bothering you, but if you get into a habit of doing that, then you have an inappropriate relationship with that food item.
API: How does emotional eating develop?
DR. TANOFSKY-KRAFF: There isn't much literature on this, so it's all hypothetical. Some parents may have used food with their children as rewards or as a way to soothe a child when he felt badly. On the other hand, we know that some foods can actually soothe people—carbohydrates, chocolate. People who are using food to cope, and who choose chocolate, are possibly getting reinforcement.
API: So would you say that emotional eating is an addiction?
DR. TANOFSKY-KRAFF: There is a relationship between different food types and the brain and stress. For some people, yes, it can be safe to say that emotional eating can be addictive.
There is also a whole new line of science studying food addictive behavior. It's been suggested that foods high in carbohydrates and that have been highly processed do have an addictive element—not so much as other addictions, such as to drugs, but still an addictive element. But this is a really new field of science.
API: In terms of prevention and intervention, how can parents teach their children not to emotionally eat? What if parents themselves emotionally eat?
DR. TANOFSKY-KRAFF: I always encourage parents not to use food as a reward. We have to find other ways to reward our kids. Soothe them with words and actions, as opposed to food. Bolster communication between parents and kids. Teach kids when they feel bad to work it out with words.
Keep an eye out and see if your kids are turning to food when they're feeling down, and then teach them other ways to soothe themselves, like going to the playground. I'm a big prevention advocate because losing weight is very difficult, so if you see your child gaining weight, it's important to do something then, rather than wait.
When parents emotionally eat, that runs into the problem of modeling. In working with kids, it's important to have the whole family work on physical fitness and healthy eating together. This works better than singling out the obese child. Both parents need to be involved; if you have one parent who doesn't focus on healthy eating and getting exercise, this sends a mixed message. The whole family has to be involved.
Modeling healthy eating begins when children are babies. If you expose kids when they're young to healthy foods, they'll grow up liking healthy foods. If you say "yum, yum, yum" with carrots, your children will grow up loving carrots.
API: It seems that every children's activity, from sports to church, involves treats, and often these are sweets or other unhealthy foods. Parents even encounter candy being used to soothe a child after a doctor appointment. Despite the focus from television shows such as "The Biggest Loser," our society seems to ignore the issue of obesity in children. How can parents teach their children to choose healthy food and eating habits?
DR. TANOFSKY-KRAFF: I think the only way we can change that is with big policy changes, such as a policy that schools cannot hand out sweets. For example, instead of celebrating a child's birthday with cake, let's play kickball. I think there need to be changes at a much broader level—it shouldn't be just on parents.
Kids are eating so many snacks all the time that they don't even know their hunger cues because they are virtually never hungry. Biologically, we should have a natural physiological reaction that occurs when we are hungry, and that's when we eat.
API: How big a role do genetics play in determining a child's risk of obesity?
DR. TANOFSKY-KRAFF: Up until age 6, the parents' weight determines the weight of the child. So a 2-year-old with one obese parent is more likely to be of a higher weight percentile than a 2-year-old who doesn't have an obese parent. After age 6, the child's own weight is the best predictor of the risk of obesity. That is, even if both parents are obese but the child is not obese, his odds of becoming obese are lower.
Healthy eating is so important. I don't think parents necessarily need to be concerned about obesity, but they should be concerned about healthy eating.
And everyone needs some physical activity every day. No, walking down to the mailbox is not enough exercise, but it's hard to answer how much exercise is needed every day. It varies according to each person, depending on a number of factors such as your health, your physical fitness level, your age. What is consistent is that every person should have some form of aerobic [activity] every day.
API: Thank you so much for your time and insights. Is there anything else you'd like to share?
DR. TANOFSKY-KRAFF: Most of my work has been on out-of-control eating or binge eating, and what I'm finding is that out-of-control eating is often associated with emotional eating. If we focus on preventing emotional eating, eating in response to a negative affect [emotion] is less likely to occur. Parents can model how to respond to a negative affect in ways other than eating, and children will be less likely to use food to cope as they grow older.
From the Journal of Attachment Parenting: Emotional eating among children is correlated with parental responses that minimize, are punitive and are non-reasoning. These parental responses are in line with authoritarian and permissive parenting styles. Emotional eating among children is not related to parental responses that fall within authoritative parenting styles (under which Attachment Parenting falls). Learn more about this study in API's Journal of Attachment Parenting, available online free of charge, through a free API Membership.