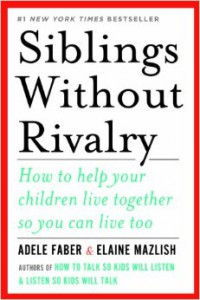 There are 500+ members waiting to read and discuss AP-oriented books with you. Are you already one of those members? If not, what are you waiting for?! Join the club at API's online book club held through GoodReads.
We are now reading Siblings Without Rivalry by Adele Faber and Elaine Mazlish for the general audience. For the older children genre we are still reading Parent Effectiveness Training by Thomas Gordon.
For Siblings Without Rivalry, we will be reading chapters one to three in November. The topics for these chapters will be:
How This Book Came to Be
Author's Note
Chapter 1: Brothers and Sisters — Past and Present
Chapter 2: Not Til the Bad Feelings Come Out…
Chapter 3: The Perils of Comparisons
For Parent Effectiveness Training, we'll be reading Chapters 10 to 12. The topics for these chapters will be on:
Chapter 10: Parental Power – Necessary or Justified?
Chapter 11: The "No-Lose" Method for Resolving Conflicts
Chapter 12: Parents' Fears and Concerns About the "No-Lose" Method
Our discussions happen on GoodReads, so don't hesitate to join in the conversation. We read a chapter a week and sometimes you can't get through the chapter and yet you'll find you'll still be able to participate in the conversation. So come join the other 500+ members who are already part of the conversation!