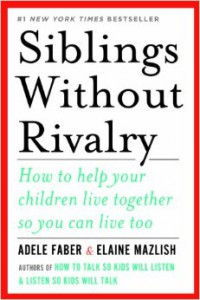 Join the club at API's online book club held through GoodReads and read along with API's 500+ other members.
We are continuing to read Siblings Without Rivalry by Adele Faber and Elaine Mazlish for the general audience. For the older children genre, we will be finishing up reading Parent Effectiveness Training by Thomas Gordon.
For Siblings Without Rivalry, we will be reading chapters 3-6 in December. The topics for these chapters will be:
Chapter 3: The Perils of Comparisons

Chapter 4: Equal is Less

Chapter 5: Siblings in Roles

Chapter 6: When the Kids Fight
For Parent Effectiveness Training, we will be finishing the book. The topics for these chapters will be on:
Chapter 13: Putting the "No-Lose" Method to Work

Chapter 14: How to Avoid Being Fired as a Parent

Chapter 15: How Parents Can Prevent Conflicts by Modifying Themselves

Chapter 16: The Other Parents of Your Children
Our discussions happen on GoodReads, so don't hesitate to join in the conversation. We read a chapter a week. Sometimes you can't get through the chapter and yet you'll find you'll still be able to participate in the conversation. So come join the other 500+ members who are already part of the conversation!