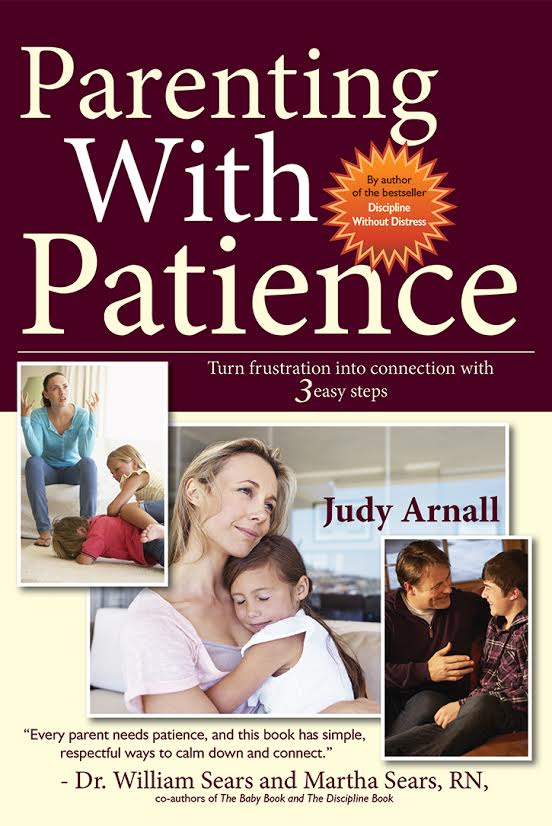 Parenting with Patience by Judy Arnall details three steps parents can take to ease the process of moving away from using punishments to practicing positive discipline.
API: Tell us about your book.
Judy: Parenting With Patience normalizes parent and child anger, and proposes a simple three-step model to manage frustration and improve relationships. The book walks parents through a single incident of deliberate disobedience — because that is when most parents feel angry and really want to punish, whether they believe in it or not! — and shows how the three simple steps work. The three steps are:
The parent gets calm first through timeout for the parent, not the child.
The parent helps get the child calm through time-in.
The parent and child work through the issue with collaborative problem-solving and time together.
Throughout the three steps, the book describes the three kinds of stresses every person faces, and the effects on brain development, as well as the five parenting styles, and the eight benefits and eight challenges of each temperament characteristic — yes, there are challenges to parenting an "easy" child.
The book also has a cut-out section of 70 calm-down tools useful for parents and children in the moment of anger. It has a massive section on what children are capable of socially, physically, emotionally and cognitively from babies to teens so that parents have realistic expectations for their children. It is full of practical tools of "what to do" and statements of "what to say" in the
moment of anger — for playgroup altercations, sibling anger, toddler tantrums, teen anger, school-aged attitude, partner anger and our own anger. It gives suggestions on how to word assertive "I-statements."
The bonus is that anyone can read it in a day.
API: What inspired you to write the book?
Judy: When I wrote Discipline Without Distress, people loved the book because of its focus on guiding behavior of babies to teens with truly non-punitive strategies — not only no spanking or other physical punishments but also no timeouts, logical consequences or taking away possessions. It was translated into five languages. As a mom of five children who are now ages 13 to 23 — three currently at university — and a parent educator for the past 17 years, I discovered a lot of tips and tricks to help make family life more fun, caring and connected while getting through the daily grind. Although I never was a spanker, I did use timeouts and logical consequences and eventually dropped all of these punishments by the time my oldest son was 10. I was facilitating parent groups and compiled a lot of parent ideas for gaining cooperation into the Discipline Without Distress book.
The problem was that the parents and I found that positive discipline was fine with a calm brain — anyone could do it when calm — but it was much harder to do with a stressed and angry brain, even when one truly believed in non-punitive, gentle discipline.
I was also single parenting at the time, because my partner was away at work a lot. I thought that a companion book about Parenting With Patience,  loaded with ideas about handling stress, would be beneficial to parents because anger is a normal, healthy emotion. I found that parents were most at a loss in handling their children's anger — at all ages, from toddlers to teens — respectfully and assertively in a way so that both of them win.
Helping children manage their anger without punishment is critical, because it determines their adult life success in jobs, relationships and happiness.
API: How will this book benefit other families?
Judy: Even if parents just take the first step, which is getting ourselves calm enough to think logically rather than emotionally, then family life will improve. The book provides at least 70 things to do in order to get calm.
The book also busts several parenting myths, such as that parents have to deal with things in the moment or toddlers will forget. Parents can take 30 minutes to calm down before they do anything and many strategies can be done with little children underfoot. Toddlers can remember what happened.
A critical section of the book outlines what ages children can do certain things. Parents feel they have to come down hard on the toddler years or behaviors will snowball by the teen years. Again, not true. Brain development is on their side in the later years.
Many "discipline" issues can be resolved with parent knowledge of appropriate development and adjustment of age-appropriate expectations.
API: Is there any special message you have for parents who feel that spanking is an appropriate discipline method for children?
Judy: I totally understand spanking. I felt the urge to spank from the anger arising when my kids deliberately disobeyed me. Non-parents just don't understand how angry parents can feel with their offspring's misbehavior.
Anger is a very normal and useful emotion. When we understand that spanking is most often a reaction of our anger, rather than a tool to teach — because we know logically that research shows it doesn't work in the long run — then we can practice taking a timeout for ourselves a little bit every day. We can replace spanking with collaborative problem-solving if we are calm and help our children get calm first.
The more we do a habit, the more the habits become what we do. The payoff comes when we enjoy our beautiful results: Children who care about us, talk to us, have fun with us and listen to us — as we do for them.
API: What are your views of Attachment Parenting International (API)? How does your book work within API's mission statement?
Judy: Attachment Parenting International is a much-needed organization to promote healthy child upbringing and provide support for parents for their choices.
When the Internet was born, a few like-minded parents and I started Attachment Parenting Canada (APCA) two years after API was founded. Canada is a very progressive country, parenting-wise, and most of the health organizations align with API's Eight Principles of Parenting. We feel that API's Eight Principles of Parenting are a wonderful framework to guide parenting decisions, and they are inclusive enough for everyone who has a desire to be a little more skilled in their parenting. No parent is perfect, and we can all work within API's Eight Principles of Parenting.
Parenting With Patience addresses API's Eight Principles of Parenting in its three-step model. The first step promotes API's Eighth Principle of Parenting of taking care of ourselves.  The second step of helping our children with their anger promotes API's Third Principle of Parenting of responding with sensitivity. The third step of collaborative problem-solving involves API's Seventh Principle of Parenting of positive, non-punitive discipline.
API: Is there anything else you'd like to share?
Judy: Every new day is a gift for us to begin again. Patience takes practice, and we can gain more by taking little baby steps. We can't change the past, but we can start today. Every time we refrain from yelling is a gift for our children. Children are very forgiving, and you will love the fun, laughter, caring and joy of the school-aged and teen years if you drop punishments and begin collaborative problem-solving with them.
First, let's deal with our frustration. This book will show you how.
API: Where can people find more information about your book or your work?
Judy: To learn more about APCA, visit www.attachmentparenting.ca. We are a nonprofit organization that provides information on API's Eight Principles of Parenting. We offer free webinars to help readers implement the strategies and steps in the books Parenting With Patience and Discipline Without Distress.
You can also visit my website, www.professionalparenting.ca, which features articles, books, webinars and courses on non-punitive parenting and education practices.
A limited number of books are also available for purchase in the API Store.